'Mr. Blandings Builds His Dream House': Blueprint for a Comedy
By Michael S. Goldberger, iBerkshires Film Critic
07:02PM / Friday, April 17, 2020
---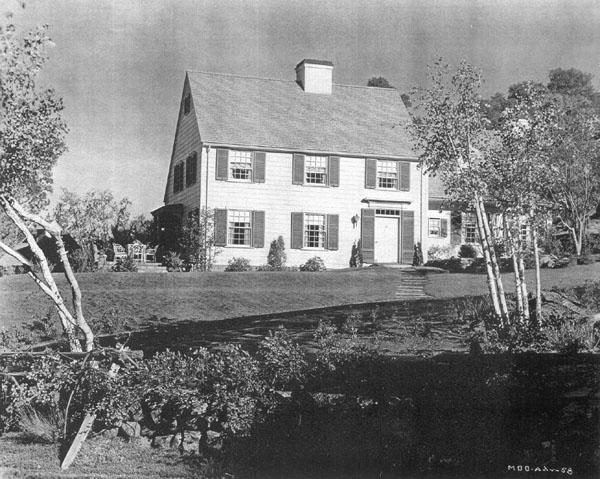 I wish that I were reviewing one of the half-dozen movies certain to be made when this pox upon our house is no more. But until that glorious return to normality has us resuming all the simple joys of life we take for granted, like going to the movies, I'll be retro-reviewing and thereby sharing with you the films that I've come to treasure over the years, most of which can probably be retrieved from one of the movie streaming services. It is my fondest hope that I've barely put a dent into this trove when they let the likes of me back into the Bijou.
……………………………………………………………
"Mr. Blandings Builds His Dream House" (1948) charmingly dramatizes why one of the great American pastimes, right up there with baseball, seeking out the best pizza and keeping up with the Joneses, is dreaming about finding or, better yet, building that dream house of your very own.
Traversing across hill and dale, usually on a Sunday, couples young and old let imaginations soar to heavenly heights as they share the romantic notion of the perfect nest in which to cultivate their love.
My wife and I have managed over the years to contemplate the purchase of five or six such fantasy dwellings, each representing the perfect complement to whatever lifestyle we visualized at the time. There was the in-town, oversized gingerbread cottage in a storybook Vermont village, Victorian millwork and all. "Howdy neighbor." Walk to stores and all.
Closer to home, but not too close, was the farmhouse in almost rural New Jersey. Lots of acreage — all of a whole weekend to mow it, I bet. Wondered if some farmer who needed the hay would do it for free? Hay is old grass, isn't it? Moo!
And then for a while there were the raft of sensible upsizes: houses with lots of bathrooms, closet space that could put the storage companies out of business and enough extra bedrooms to even accommodate those relatives you'd just as soon would never visit. Bigger for sure. Better? I don't know.
And then there was of course the one that has never faded into the past: The idyllic abode on the lake that, when we first spied it, made me think of Fitzgerald's thoughts about the "wonder" the Dutch sailors presumably felt when first they beheld the "fresh, green breast of the new world." I mean, if you can't write the Great American Novel there, well then ...
Cary Grant's wonderfully etched Jim Blandings has his own version of the chimera I speak of — a haven in the Connecticut sticks where the bigtime Madison Avenue adman can don slippers and smoking jacket, enjoy a snifter of brandy with a good pipe, and play country squire.
Muriel, the equally sophisticated housewife deliciously played by Myrna Loy, longs for a more commodious atmosphere in which to raise her two, tweenaged daughters. Currently living in a Manhattan apartment that would probably rent for about $9,000 a month in today's money, when architect Simms, elegantly portrayed by Reginald Denny, cautions prudence, she declares: "I refuse to endanger the lives of my children in a house with less than four bathrooms."
Such whimsical lines, uttered matter-of-factly by a splendid cast that includes the great Melvyn Douglas as family friend, Bill Cole, a naysaying, cynically inclined lawyer and occasional narrator, are actually very astute, sociological observations of postwar America. While the conflict to stomp out Nazism and cult behavior, at least for the time being, is never alluded to, it's nevertheless there by omission, the adventures of the Blandings being a vital paragraph in the
rekindling of the American Dream, of which the house is but one artifact.
They are the ideal family of the day. The floodgates of potential health, wealth and happiness once again opened to them in limitless possibilities. Still, the optimistic conceit is not without a heart, even if not a totally bleeding one. There is an adage that says that by the time you navigate the hoops and barrels of having a house built, you now know how to do it, and swear to never ever do it again.
Thus, when anguishing over one of the many snafus he encounters, Jim Blandings is moved to evoke his democratic bent by frustratedly exclaiming: "It's a conspiracy, I tell you. The minute you start they put you on the all-American sucker list. You start out to build a home and wind up in the poorhouse. And if it can happen to me, what about the guys who aren't making $15,000 a year? The ones who want a home of their own. I's a conspiracy, I tell you — against every boy and girl who were ever in love."
Psst. That $15,000 salary in 1948 is about $164,726.92 today.
In short, the Blandings are doing rather well, and will probably continue to do so ... that is, assuming Jim can come up with a slogan for his agency's prize, processed ham account: Wham.
What with all the complications that come with not being able to find a suitable underground water source, windows that mistakenly go to a Mr. Blandworth in Danbury, and an endless series of upgrades that pose a financial challenge even to a 15,000 dollar a year man, he is stumped.
And the boss wants that slogan "chop, chop." Talk about the height of white privilege, albeit exaggerated for farcical purposes. But Jim has had months to come up with the slogan, a one- or two-sentence catchphrase at most, and it's the only piece of work he's had to attend to for about a year. Never mind that he goes to the office every working day to contemplate the elusive motto.
Sociopolitical subtext noted and appreciated, there is a vicarious, uplifting and lighthearted joy in sharing the relatively inconsequential problems that most of us would love to have as "Mr. Blandings Builds His Dream House."
"Mr. Blandings Builds His Dream House," directed by H.C. Potter, is a Selznick Releasing Organization release starring Cary Grant, Myrna Loy and Melvyn Douglas. Running time: 94 minutes